Good morning and welcome to our July challenge and this month we would like to see.............
********Things with Wings********

Lots of choices here, Butterflies, Bees, Fairies, Birds, the choice is yours but please note that a small punched Butterfly added as an after though will not suffice to fit the theme, it must be part of your artwork design.


As always you can use any make of stamp and enter up to three times, but we must see hand stamping as the

focal element

of your artwork, this means:

Stamping must be the central point of attention and interest


The one exception is Penny Black Stickeroos, but strictly no digi images.


As always we have lots of wonderful prizes to be won starting with three from

Penny Black

..........
Penny Black
invite you to e
xplore their creative world and see for yourself why their rubber stamps, stickers, beautiful papers for scrapbooking, cardmaking and stamp crafting are everyone's favourites. Their
products are designed to integrate style and colour for creating the best handicraft projects ever.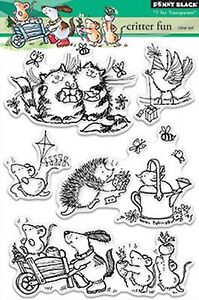 Next up is
Marianne Design
who always offer a lovely prize of their unique products ................
Marianne Design is a Dutch owned craft manufacturer. The company was established in 1994 by Marianne Perlot and is based in the Netherlands. For years now, we develop all our products with much care and quality. We have a practical understanding of the needs of crafters, we integrate product development, design and customer service to bring fresh ideas and beautiful products to the craft industry. All to enable the consumer to make beautiful cards, scrapbooks and other projects and enjoy this wonderful hobby. We produce a wide range of products which represent a complete concept of paper crafts. There are different lines of stamps and dies with matching papers and materials to decorate your card or scrap. Products are chosen carefully for mixing and matching and stimulating creativity.
Stamp Addicts is a family run business based in Bedfordshire and have been in business since 1992. We have watched the popularity of rubber stamping and all papercrafts steadily increase over time and now manufacture our own branded rubber stamps which frequently feature on Hochanda TV as well as craft shows across the UK. The prize is a £15 store vocuher.
Using Penny Black 4132K Perils of Love
Using Penny Black 30-416 Happy Thoughts, 30-095 Flower Festival and 30-352 Animal Wisdom.
Linda
Using Penny Black 40-426 Garland Pixie
Lynn
Using Penny Black 30-300 happy notes
Mervi
Using Penny Black 40-099 Soft Wings, 1-010 Delicate Wings, 51-340 Dream Big
and 80-009 Painted Blooms
Susan
Using Penny Black 2243K Bee Costume, 1073E Bee-u-tifil Day,
51-110 Flicker and Flutter, 80-008 Gentle Whisper
Using Penny Black 30-151 Fairy Sweet
Those leaving a comment on any post on this blog or entering a piece of artwork into Inlinkz do so in the knowledge that their name and blog link are visible to all who visit this blog and in so doing have published their own personal details and consented to our use of that personal information should it be selected as a winner or accredited work. You can read Inlinkz Privacy Policy here.